Many smallholder farmers in Africa have limited cash on hand, very limited investment in improved agricultural technologies (such as fertilizer), and low agricultural productivity. Researchers conducted a randomized evaluation in rural Mozambique to investigate how offering remunerated mobile money saving accounts to farmers affects farmers' financial behavior, specifically agricultural investment. Promoting mobile money savings through interest-bearing accounts increased overall household savings and specifically the use of fertilizer. However, an intervention that trained both farmers and their closest farming friends on the use of mobile money and fertilizer usage, without the remunerated savings component, actually decreased savings and the use of improved agricultural inputs. The research shows that mobile money wallets can be used as a savings instrument for farmers, and interest-bearing products can indeed encourage savings for agricultural investments. However, mobile money can also decrease transaction costs among community networks, which can dampen savings behavior by facilitating transfers.
Policy Issue
Many smallholder farmers in Africa have very low adoption of improved agricultural technologies including fertilizer. One barrier may be limited access to formal financial products to promote saving and agricultural investment. Improved agricultural technology such as fertilizer has clear potential to increase productivity; therefore, saving to pay for this technology may be crucial to break the cycle of low investment that leads to low agricultural productivity that is typical of many rural settings in Africa. Since 2007, with the invention of M-PESA in Kenya, mobile money products have become very popular; the ability to hold money and pay others via mobile money accounts can expand formal financial products to the unbanked. Can mobile money make formal savings mechanisms available to the poor? Could mobile savings accounts increase farmers' agricultural investments and thus increase their agricultural productivity?
Context of Evaluation
The study population consists of smallholder farmers cultivating maize in non-irrigated plots in rural Mozambique, where agriculture employs 81 percent of the population, among whom 99% cultivate less than 10 hectares of land. Cereal agricultural productivity in Mozambique is lower than the African average and less than one-third of the global average. Nitrogen fertilizer use is 6.4 kilograms per hectare, which is half of the African average (13.3 Kg/ha) and far below the world average (73.3 Kg/ha). Access to financial services is also incredibly low; in 2013, only 24 bank accounts existed for every 100 Mozambican adults. Mobile money was introduced to Mozambique in 2011, and geographically reaches 80% of the population, providing an alternative for farmers to save and transact.
Details of Intervention
Researchers conducted a randomized evaluation from 2013 to 2015 to investigate how offering remunerated mobile money saving accounts to farmers affects farmers' financial behavior, specifically agricultural investment. The research team was able to identify 196 farmers, each with two of their closest farming friends willing to participate in the study, from three districts in the Mozambican province of Manica. Each triplet (primary farmer with two connections) was assigned to one of four comparison groups:
Savings treatment: Primary farmers receive (a) information on mobile money usage and fertilizer use, and (b) a strong incentive to save, specifically 20 percent interest earned on their average mobile money account balance over the first year of the account's operation, paid out in urea fertilizer at the time at which it should be applied. Primary farmers' friends receive nothing.
Network treatment: Both primary farmers and their closest farmer friends receive (a) information on mobile money usage and fertilizer use, and the primary farmers' friends receive the same intervention.
Savings + network treatment: Primary farmers and their closest farming friends receive (a) information on mobile money usage and fertilizer use and (b) the interest-bearing mobile money account balance described in the Savings treatment.
Pure control: Business as usual.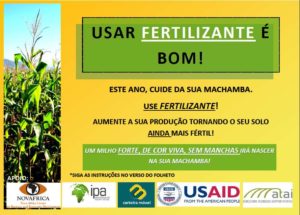 The researchers partnered with the mobile money operator mKesh to collect balance and transaction data. The research team also conducted surveys for more detailed information to understand how these interventions affect savings, expenditures, and transfers sent and received, as well as fertilizer usage. .
Results and Policy Implications
The researchers found that the savings treatment increases primary farmers' savings in their mobile wallets and their overall household savings, in part through increased money transfers received from their network connections. These primary farmers more than doubled their fertilizer usage (a 34 to 36 percentage point increase from a base of about 23 percent) and increased the kind of non-frequent household expenditures typically financed by savings. These positive effects were particularly clear during the first year while interest payments were made.
However, the effects of the network intervention were less positive and clear. This treatment caused an insignificant decrease in savings, at least partly due to a decrease in transfers received. Primary farmers also decrease their investments in agricultural inputs, namely decreasing the likelihood of using fertilizer by about 7 percentage points (from a base of 23 percent, a 30 percent decrease). These results show that access to a tailored savings account can lead to higher levels of investment by farmers in this context. However, rural financial and risk-sharing via social networks, particularly where transaction costs are reduced by mobile payment infrastructure, can diminish savings and investment behavior with a remunerated savings component.